Punakha Winter Trek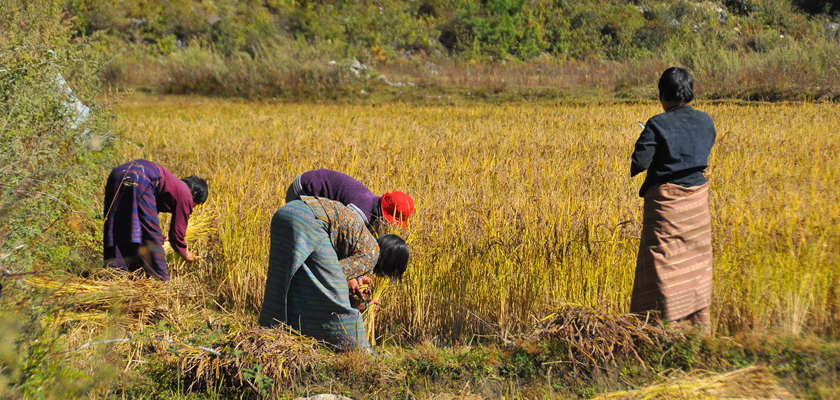 Punakha Winter Trek / Max.Elevation: 3,400
Duration: Three days,
Highest Camp: 3,360
Standard: Easy
Best Seasons: September to May
Start: Dechencholing (Thimphu)
Finish: Zomlingthang (Punakha)
Summary: The best seasons for this trek are March to May and September to November. But due to the low altitudes, the trek is possible throughout the whole winter. The trek is the old walking route from Thimphu to Punakha.
Day 1: Dechencholing – Chamina (four to five hours, ascent 860m, camp altitude 3,360m).
Drive north up the valley towards Dechencholing Palace, following the Thimphu Chhu. The transport will reach you up to Pangrizam, the last road point. From here the trek starts towards Shong Pang, and leads you through some beautiful villages. The camp will be just above Chamina village.
Day 2: Chamina – Dopshing Pang (seven to eight hours).
The trek trail ascends gradually up till you reach the pass called Sinchula (3,400m). From this point, if the weather is clear, one can see Phajoding monastery, which is just above Thimphu. After two km, you can view Thinleygang village, Talo Monastery and the motor highway towards the ancient capital of Bhutan, Punakha. The trek from the pass is more or less downhill till you reach the campsite.
Day 3: Dopshing Pang – Chorten Ningpo – Punakha (eight hours, camp altitude 2,700m).
The trek to Chorten Ningpo is rather gradual and will take trekkers through thick forests, villages and rice fields. Chorten Ningpo is linked to Drukpa Kuenley, better known as the "divine madman". The campsite is right in front of the temple. From the motor road, you will follow the road towards Punakha.