Tariff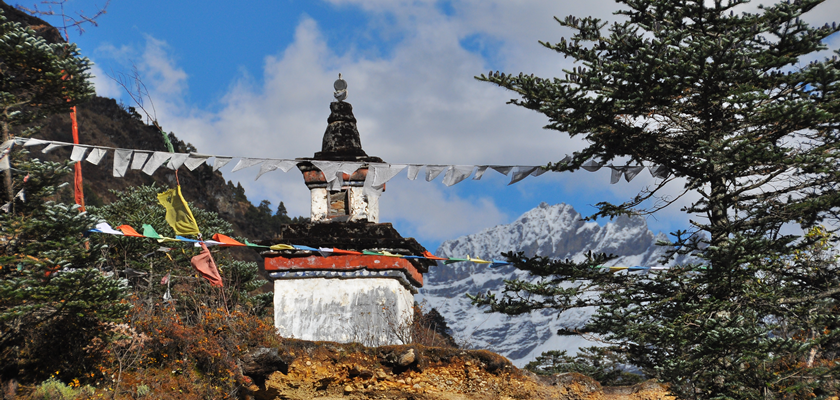 The minimum international Tourist Tariff is set by the Royal Government of Bhutan and its up to an individual tour operators discretion to charge extra as per the services rendered and is valid for all inclusive packages.
The tariffs for tourists visiting in a group of 3 persons or more are as follows:
Season Month Tariff
High Season:
Mar, Apr, May, Sep, Oct, Nov: US$250 / per person per night
Low Season:
Jan, Feb, Jun, July, Aug, Dec: US$ 200 / per person per night
ENTITLEMENTS
These minimum daily package rates are inclusive of the following services:
Accommodation on twin sharing basis
All transfers and sightseeing within Bhutan
Services of accompanied guide
All meals
35% royalty & taxes to the government
Riding ponies and pack animals on treks
Fees to temples & monuments
Note: Gratuity/Tip, Alcohol, beverages, laundry and any communication cost is not included. Further luxury hotels like Aman Kora, UMA, Zhiwaling & Hotel Taj Tashi, Termalinca resort is not included in the above price. An individual will have to bear the extra room expenses for the above hotels. For further information on the above hotels, kindly write to us.
The rates given above are applicable per tourist per night halt in Bhutan. On the day of departure, the local agent's obligation shall be limited to breakfast only and any extra requirement shall be payable on actual basis.
The above rates apply uniformly irrespective of locations and the type of accommodation provided/asked for. These accommodation establishments shall be approved by TAB.
TARIFF FOR INDIVIDUAL AND SMALL GROUPS (FIT)
Individual tourists and smaller groups of less than three persons shall be subject to surcharges, as follows:
Single Individual: US$ 40/ per night halt
Group of 02: US$ 30/ per person per night halt
DISCOUNT on tourist tariff
There shall be no daily tariff charged for the CHILDREN up to the age of 5 years but will be have some expenses charged depending on the requirement. However, those between the ages of 6 to 12 years accompanied by elders/guardians shall be given a 40% discount on daily rates.
Full time Students below the age of 25 years holding valid identity cards from their academic institutions shall also be given a 25% discount on daily rates.
A discount of 50% on daily rates shall be given to one person in a group of 11 to 15 persons. A 100% discount shall be given to one member in a group exceeding 16 persons.
CANCELLATION
Tour Programs booked and subsequently cancelled shall be subject to cancellation charges as follows:-
Within 45 days of the start of the tour programme: Free
Within 30 days: 15% of the rate
Within 21 days: 20% of the rate
Within 7 days: 30% of the rate
Less than 7 days or cancellation without notice: 100% of the rate
DELAYED ARRIVAL / DEPARTURE
There shall be no charge for the number of days of delay in departure of visitor due to weather conditions, Druk Air problems or roadblocks. They will be charged only the actual expenses on accommodation, food transport and any other services required.
SINGLE ROOM SUPPLEMENTS
The quoted package rates are valid for accommodation on twin sharing basis and following supplements will be applicable incase of single room accommodation:-
Festival season = US$ 50 / per single room per night
Other season = US$ 35 / per single room per night
REMITTANCE OF TOUR PAYMENT
Tour payment must be settled one month prior to date of arrival in Bhutan and VISA is cleared by the government subject to advance payment only.
PLEASE DEPOSIT/TRANSFER THE PAYMENT TO FOLLOWING BANK.
BANK ADDRESS:
Beneficiary Bank: Bhutan National Bank, P.O Box 439, General Post Office Building, Thimphu, Bhutan
SWIFT: BNBTBTBT
Account No.: 358-202-171-9001 (USD A/C)
Correspondent Bank Name:  Standard Chartered Bank Ltd, One Madison Avenue, New York, NY 10010-3603
Swift Code: SCBLUS33
FED ABA No.: 026002561
Chips ABA Routing No.: 0256
Ultimate Beneficiary: Snow White Treks & Tours
Copy of the bank transfer should be faxed to us for necessary follow up with the bank.
Entire tour payment must be sent to Snow White Treks & Tours by Bank transfer, in advance as time period specified: –
For FITs: 60 days advance
For GITs: 60 days advance
For Festival Tours: 90 days advance
(Services are confirmed subject to advance payment only.)
For high seasons (March, April, May, Sept, Oct, Nov) it is advisable to remit payment for Druk Air flights 3 months advance. This will help us in getting you seats confirmed.