Merak Sakteng Trek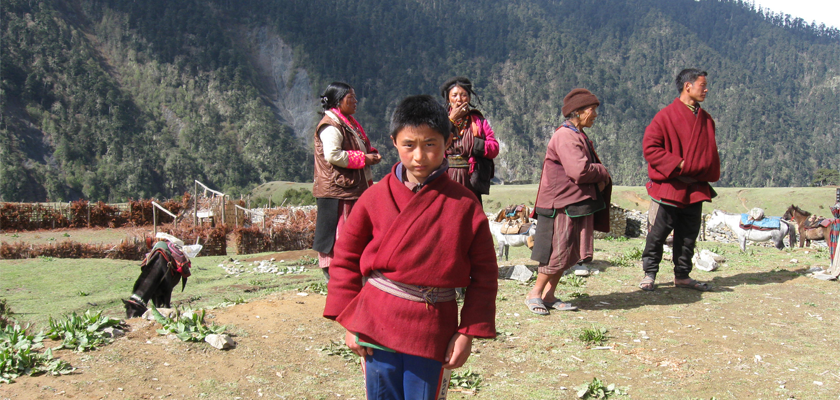 Merak Sakteng Trek
Duration of Trek: 6 Nights / 7 Days.
Highest Camp: 3500 m
Standard: Medium – Hard
Best Season: April, May, September and October
Start: Above Radhi (Trashigang)
Finish: Phongmey (Trashigang)
Introduction to Merak and Sakteng: The Brokpas, semi-nomadic inhabitants of the region, migrate through the seasons with their yaks: moving between the highlands in summer and the lowlands in winter. The Brokpas still engage in the barter system, trading cheese, butter and dried meat for grains and other goods that are not readily available to them. During the colder months, they also travel down south to the villages like Radhi, Phongmay, Kanglung, Trashigang town, and other areas to barter their goods. So during such times tourism is not really a viable option as the active population is out with their cattle. However, there are few residents who do not own animals and they stay back in the villages.
Day 1: Trashigang – Chaling (2148 m) – 7hrs – Damnongchu (3088 m)
The trek to Merak will start from Chaling and the feeder road goes up to Chaling from Rangjung. The feeder road from Rangjung to Chaling is about 15 kms, which takes about 1 hour by car. The first halt will be at Damnongchu. Damnongchu camping area is located after Mindrula, which lies about 10,880ft above sea level.
Day 2: Damnongchu – 5 hrs – Merak (3500 m)
The trail from Damnongchu to Merak goes along the river bank with gradual ups and downs. The final stretch is a very gentle incline after which you enter Merak village. The campsite, located before the village, has spectacular views of the nearby mountains and the village. There is also a guesthouse where tourists can stay if they choose not to camp.
Day 3: Merak – 7.5 hrs – Miksa Teng (2865 m)
The trek from Merak to Miksa Teng is of medium difficulty. It will pass through the beautiful Nagchungla pass. Right after the Nagchungla pass descend, the trek is mostly along the river and there is a small climb before reaching the village of Sakteng. The campsite is located in a clearing surrounded by rhododendron trees. It is beautiful when the flowers are in full bloom.
Day 4: Miksa Teng – 3.5 hrs – Sakteng (3002 m)
Trek to Sakteng from Miksa Teng is easy making your way through beautiful woods with a short climb before reaching Sakteng but it is not very difficult. If lucky, trekkers may be able to spot a red panda among the trees. The Sakteng campsite is located on the outskirts of the village. Sakteng also offers trekkers the option of spending the night in a guesthouse instead of camping.
Day 5: Sakteng – 6.5hrs – JyonkharTeng (1860 m)
Sakteng to Jyonkhar Teng trek is an easy trek compared to the previous treks. It is mostly downhill and walking on a plain path. Some trekkers can also make it to Phongmay or Radhi but a halt in Jyonkhar Teng is recommended. Jyonkhar village is located few minutes walk from the campsite. Jyonkhar also has a community school. Jyonkhar Teng campsite is located near a river.
Day 6: Jyonkhar – 5hrs – Phongmay/Radhi(1981 m)/Trashigang
The trekkers are highly recommended to either stay in Phongmay or Radhi. This is because of many attractions and beautiful villages in these two places. Radhi, popularly known as the 'Rice Bowl" of the east is also popular for wool textiles called Bura weaving.
A visitor can either choose to stay in Trashigang or make their way to Mongar if they are planning to visit central or western Bhutan or if they are to depart from Paro.
Also if visitors are exiting from Samdrup Jongkhar, they can choose to do so. However, a day in Trashigang is highly recommended as direct drive from Radhi or Phongmay may be possible but it will be very tiring.
Reversing the Entry:
However, if tourists decide to enter from Phongmay and do the Sakteng – Merak loop then the above same arrangement of residents taking over from the originating residents will be applied.
Optional Halts
One day in Merak:
A day in Merak recommended as a relaxation day. This will give visitors an opportunity to visit attractions of Merak village. There are many interesting local sites that the visitors can explore in Merak and Ganggu (a neighbouring village).
One day in Sakteng:
Also a day is recommended to explore Sakteng village. Just like in Merak, Sakteng also has interesting myths surrounding its village. The Sakteng valley is little bigger than that of Merak and it has more adjacent villages then Merak.
Merak – Jomo Kumkhar – Merak
The visit or trek to palace of Aum Jomo is an interesting journey. It will be even more interesting if your trek coincides with their annual ceremony held just in front of Aum Jomo's palace near a beautiful lake. The trek is for two days and one night. So this trek is recommended after one-day relaxation in Merak as it is an uphill trek.